Everyone loving numbers, data and facts about the route Bavaria-Istanbul should look closely at this blog. I have tried to summarize all the interesting facts in this article and present them to you clearly.
In total it took me exactly 33 days to cover the distance of 2580km and the additional 21530 meters of altitude to Istanbul. Out of the 33 days I didn't ride my bike for 6 days, mostly for regenerative reasons, and took a break from cycling. So the daily average on distance on 27 days distributed, was nearly 96km with approximately 800m of altitude. Not included and already deducted are those distances in which I was taken along with motorized vehicles. The pure travel time in which the bike was moved was in total 150h 43min (6 ¼ days).
During the trip through Europe I crossed all in all 10 countries (Austria, Italy, Slovenia, Croatia, Bosnia, Serbia, Montenegro, Albania, Northern Macedonia, Greece).
For those who are interested, all the data I just mentioned are accurately presented in the following table.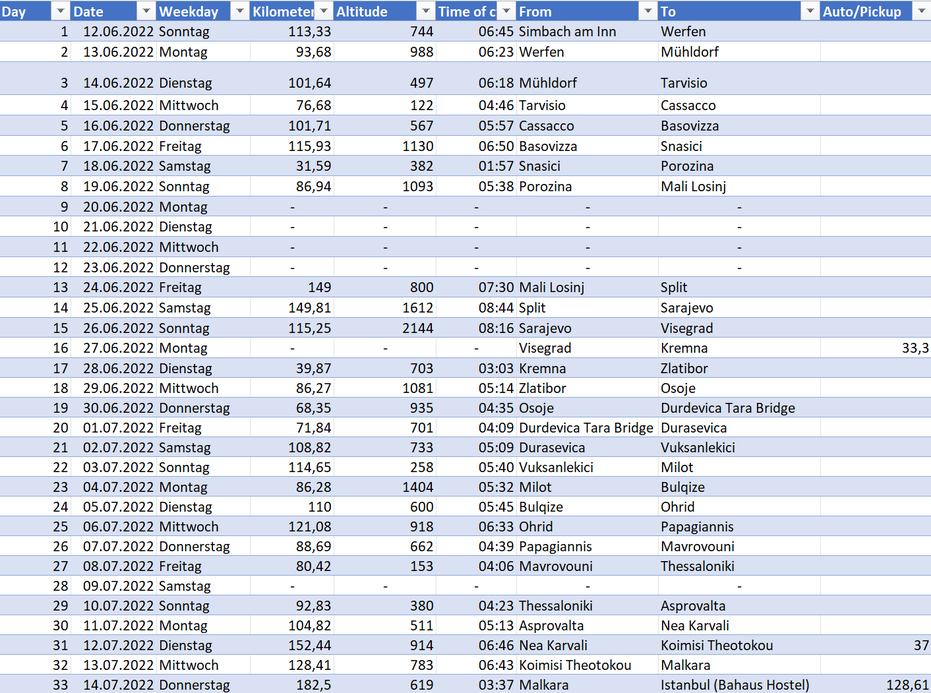 In addition, I've picked out some amazing facts for you from all the data on my speedometer. Some of them can also be seen in the diagram given above.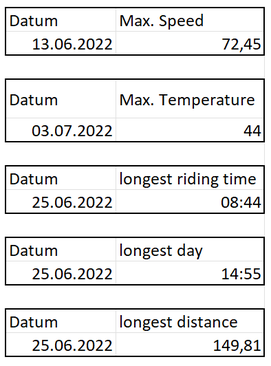 Finally, I want to mention a point that is usually overlooked at first glance but is of enormous importance for such a trip. It is drinking water. I have tried to estimate the average amount of drinking water consumption per day based on my experience. Probably the number settles around 6l. On days when it was particularly hot, the value was then easily in the range between 8-9l. My maximum water consumption once was 11l per day. As drinking water, I counted here for reasons of simplicity not only water, which covers most of my supply, but also all kinds of soft drinks.
For those who are interested in the individual route sections can contact me and I will allow you access on Komoot. Here I can´t insert the amount of data unfortunately.